Family Owned, Veteran Grown
Big T's BBQ is a family affair.
After 27 years of military service, Leslie Gardner was ready for a new challenge. So she turned her boundless energy to the restaurant industry. She began by franchising an existing food concept, where she learned how to run a successful restaurant. But soon, she wanted to dig into something of her own.
The moment she walked into Big T's BBQ (est. 2004), she knew it was special. Here was something she could be proud of—wonderful food, made from scratch, that she'd be happy to feed her family and her community. She bought Big T's in 2014, and she and her son Andrew set about making it their own. Andrew soon realized he'd found his calling! He's spent the years since honing his skills and perfecting his craft as the Master Pit Boss. Plus, he trains the pit bosses at each of our locations
Our Growth
Since taking over, Big T's has grown to four locations between Calgary and Airdre, with more on the way. We've applied the same philosophy to our growth that we apply to our BBQ—slow and steady. It's our privilege to share rich, smoky BBQ and a little "mothering" with our Calgary and Airdre communities.
LESLIE GARDNER
Owner & Mom of Big T's
Leslie Gardner is more than the owner of Big T's…she's the mom and leader, too. As the keeper of our family traditions and the glue that keeps the crew together, she encourages everyone to pull together and be the best they can be.
Leslie grew up in a military family. Her father and all five of her siblings served in the Canadian Armed Forces. Leslie served with the Royal Canadian Dental Corp in Halifax, Borden, Moose Jaw, Trenton, and Ottawa. She was awarded the W.R. Thompson Trophy for significant contributions to field operations for the RCDC in her role as Sergeant Major of the Multi National Surgical Hospital in Bosnia-Herzegovina. Leslie retired from her position as the RCDC Branch Chief Warrant Officer in 2006.
ANDREW SPEARS
Director of Operations and Master Pit Boss
A natural-born outdoorsman, the first place to look for young Andrew was always outside. He wanted to be fishing off the side of a boat or camping in the woods. Cooking by the campfire, surrounded by family and friends, Andrew loved the sense of home he got by cooking from scratch over an open flame.
Growing up, Andrew was surrounded by a proud military family. His grandfather, mother, uncles, aunts, and brother all served. Inspired by their dedication and hard work, Andrew joined the Canadian Royal Regiment at age 24.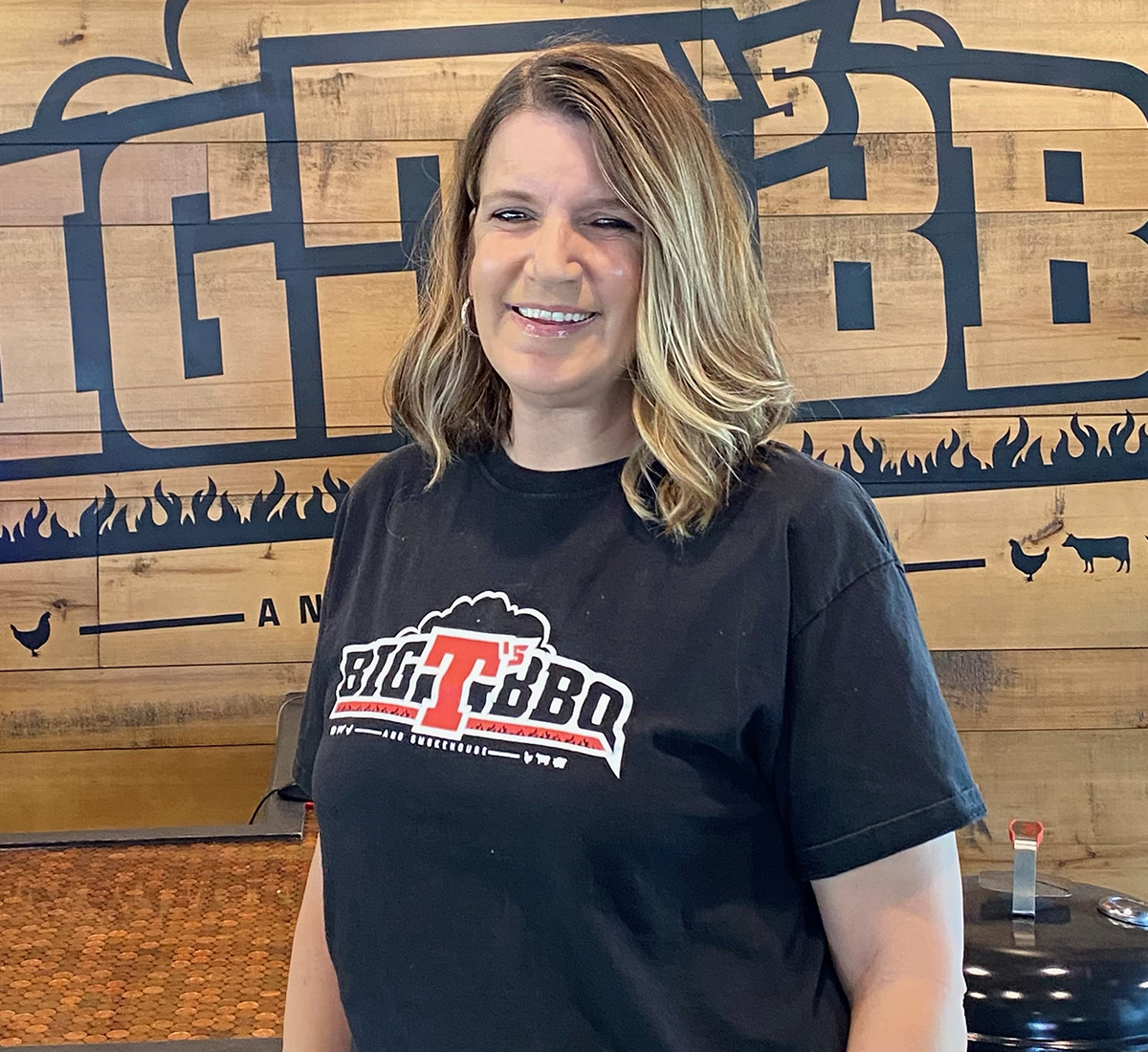 PAM BENHAM
Deer Ridge Boss
587.471.0586
pam@bigtsbbq.com
HILARY MARTIN
Catering Boss
587.471.0586
hilary@bigtsbbq.com
JUAN & ALE ALBISUA
Airdire Boss
403.945.4960
juan@bigtsbbq.com
BILL JUSTUS
McMahon Boss
403.284.5959
Billjustus@bigtsbbq.com
CORE VALUES
We believe in respect, kindness, working hard and making it right. We love what we do on the BBQ and hope you do too. Southern inspired, crazy delicious, straight up comfort food. Slow cooked, smoked to perfection, fancy enough for your wedding, and easy enough to eat on the go, anywhere. We are proud to be a small, local business; family owned and operated from day one.
Made from scratch and with love. We believe in community. Coming together. Showing up and standing out. BBQ is love. BBQ is family. We made it through because of you, and that's a privilege we want to keep earning.